This is a product review for Mama Buzz reviewers. The cookbook Potluck Survival Guide by Cherie Kimmons was provided for me free of charge to review.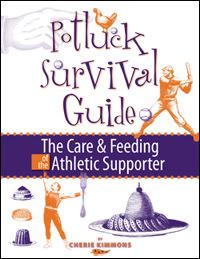 Another Cookbook. I know what you are thinking . . .but this is a cookbook that I am actually super excited about. I will tell you why. It has recipes that you can use. Recipes that you
will
use. That is if you have a family that is as picky as mine. Or if you occassionally are called upon to provide a meal/appetizer/dessert/side dish for a church/school/bake sale/family in need/potluck event. The recipes in this book will get people to tell you they "need the recipe" for that great dish you brought to the function.
Sound like you? It sure sounds like me! Usually I'll flip through a cookbook, frustrated to find only one or two meals that I could present to my family without being laughed at. This one has many recipes that my picky family will eat. Normal recipes, yet yummy!
From cover to cover this book is full of information. Instructions on boiling a chicken, reflections on Meatloaf, and handy tips and serving suggestions in the margines of the recipes make this a book that will not sit on your shelf. The book includes pages of wisdom from obviously experienced sources on how to coordinate that "big event" from decorating to calculating just how much bacon to fry up for that Men's breakfast with 25 guests.
Here my kitchen friendly 6yo Jack is helping mommy break in the cookbook:
Isn't he just adorable . . .I am training him well in the kitchen . . .he'll be a hot commodity in about 15 years.
We chose to make the Cow Pattie Cookies (a favorite from my childhood), also known as "no bake cookies."
The cookbook lays flat (even though my counter wasn't, it has gift bags on it) but the cookbook still stayed open for me.
The hardest part was keeping the toddler away from them while they cooled. A mistake by me to cool them on the kitchen table, you'd think I haven't made cookies before
with children around.
I took a little holiday creative license and sprinkled some to see if these would make a good gift giving treat . . .they do!
Here is the info on how to get a copy, get some as gifts, but make sure you order one for yourself!
Price: $18.96, regularly $24.95
Put out by: Five Star Publications
Links: http://www.fivestarpublications.com/book_detail.php?recordid= 95
http://www.fivestarpublications.com/potluck/book.html